Design the motor for your application
You can use these pre-set formulas to quickly and accurately determine if your motor requirements match well with MET's DC Motors.
These are some of the standard voltage ratings for motors that we manufacture. Please select the voltage closest to that which you have available in your application:
Variable Speed Electric Motor
Here at Minnesota Electric Technology, one of our main products is our Variable Speed Motor. These motors are capable of speed modulation when required. Our Variable Speed Motors, like our 12 Volt Motors, are available from 3.3" to 6" in diameter as well as the ability to provide up to 5 horsepower. Our Sales Engineers are more than happy to assist you in creating the perfect Variable Speed DC Motor.
A MET Variable Speed Motor is manufactured to your company's definite needs with control capability. All of our Electric Motors have both bi-directional and reversible capabilities. They are all made of ball bearing construction and have heavy duty finishes. Special couplings and mountings are simple for us to supply. We provide Variable Speed DC Motors to many Original Equipment Manufacturers (OEM's) for a wide array of products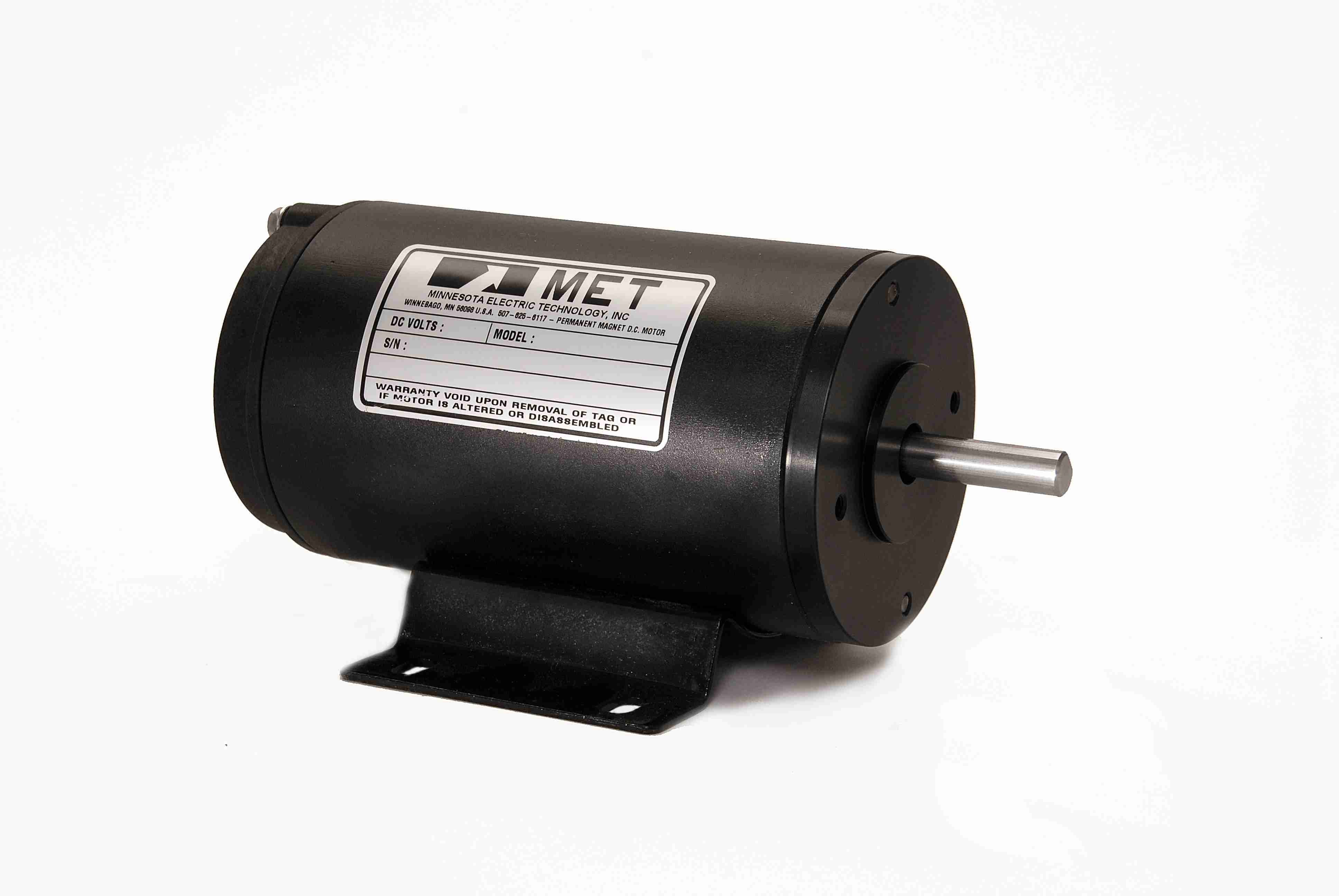 We have been manufacturing American made, custom designed Permanent Magnet DC Motors for OEM's since 1969. All of our motors are built with NEMA, IEC, and custom mounting arrangements based on your company's needs. Our corporate headquarters is located in Mankato, MN, and all of our motors are built at our manufacturing facility in Winnebago, Minnesota. Here at MET, we pride ourselves in our fast, on time, delivery as well as the high quality of our Permanent Magnet DC Motors. Call us at 507-389-4906 to speak with one of our Sales Engineers today.
MET the Problem Solvers
– Kanban setups
A longtime customer was having trouble forecasting their production needs due to wide fluctuations in their requirements. MET Motors was able to work with them and set up a Kanban program to provide motors on short notice.(Read more…)
What information does MET need to design a motor for me?
With the speed, horsepower (torque), and duty cycle we will be able to style the Variable Speed Motor to your precise needs. Even without all of the specific information necessary, our Sales Engineers are more than willing to work with you to develop the appropriate Variable Speed Electric Motor for you. Just give us a call to start working together on the perfect DC Motor for you.
Why use a Permanent Magnet DC motor in a Variable Speed Motor application?
PMDC motors allow the speed and torque to be very easily controlled. The design of the motor itself is relatively straight forward. With the use of a control, Variable Speed Motors are extremely uncomplicated and convenient. They allow you to have a smoother overall operation. Instead of using extreme amounts of energy intermittently, this DC Variable Speed Motor uses energy consistently with an increase or decrease only when necessary; conserving energy. For more information on our Variable Speed DC Motors read our blog.
Do I need a control to vary the speed of my motor?
One of the more important features of Permanent Magnet DC Motors is that the motor speed can be easily controlled. A change in the input voltage will change the speed of the motor. Speed can be controlled in many different ways.
You can use differing tap arrangements from the battery bank or solar panels. You can also insert a resistor in one of the circuits to give two or more different speeds. You can use a simple rheostat or potentiometer in the circuit to allow varying speed over a given range. You can also utilize an electronically controlled switching device such as an SCR (silicon controlled rectifier) or a PWM (pulse width modulation) control. Give us a call and we will be glad to discuss your application.
Are there other options than a Variable Speed DC Motor?
MET offers many styles of DC motors all based on the company's detailed application needs. We offer:
Our Sales Engineers are willing to discuss your application with you and lead you in the right direction of what design of DC Motor will go with your company's application.