32 series motor

Voltage: 12 volts to 230 volts
Horsepower: 0.05 HP to 0.25 HP
Speed: Up to 5,000 RPM
33 series motor

Voltage: 12 volts to 230 volts
Horsepower: 0.15 HP to 0.33 HP
Speed: Up to 5,000 RPM
34 series motor

Voltage: 12 volts to 36 volts
Horsepower: 0.25 HP to 1.0 HP
Speed: Up to 5,000 RPM
56 series motor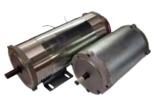 Voltage: 12 volts to 230 volts
Horsepower: 0.75 HP to 5 HP
Speed: Up to 5,000 RPM
MET Motors provides a wide variety of DC Motors that are custom designed for each customer's application. These high quality motors can be designed in any of the above series, depending on the specific requirements of the customer's machine. All of our Permanent Magnet Motors are manufactured in the USA. Many of our customers utilize either a 12 volt design or a 24 volt design motor. Our motors do exceptionally well in these applications because of the current carrying capabilities of their brushes. Numerous customers purchase two identical motors for their machines, one of them runs on a 12 volt source and the other runs on a 24 volt source.
Many mobile applications utilize batteries to power their hydraulic system. Our motor runs the hydraulic pump that supplies the pressure to control the enclosed system. Some of these applications are military as well as commercial. Our experienced sales engineers would be glad to work with you on your project.
Capabilities
Our custom motors are designed to fit your application. We manufacture DC motors with speed control compatibility, variable speeds, reversible/bi-directional capabilities, ball bearing construction, heavy-duty finishings, couplings and mountings. Regardless of your requirements, our motors all have one thing in common: they're built to last.
Some customers utilize solar power to run their equipment. This industry is growing quickly and expanding into new areas. We are proud to be a part of this environmentally friendly segment of energy consumption. Our motors can utilize this solar energy to provide mechanical power for a wide variety of machines. Please see our blog for more information.
There are many industries that utilize motors that either run at changing speeds or reverse their direction of rotation. Our permanent magnet DC motors are especially adept at meeting these challenges with ease. Our motors can run at variable speeds with only an inexpensive speed control added. They can reverse direction with only a change in the polarity of the leads. Please send us your requirements and we will be glad to send you a no obligation quote.
Services
Along with our unparalleled motor quality – backed by one of the best warranties in the industry – MET provides customer satisfaction through our standard and value-added services. We're able to offer kanban releases, blanket orders, quick-turn prototypes, expedited deliveries, long-term agreements and more!