Design the motor for your application
You can use these pre-set formulas to quickly and accurately determine if your motor requirements match well with MET's DC Motors.
These are some of the standard voltage ratings for motors that we manufacture. Please select the voltage closest to that which you have available in your application:
12V Motor
If your company is looking for a 12V Motor we can help you. At MET Motors we manufacture custom direct current motors for OEM applications. Our 12V Electric Motor has a range from fractional horsepower up to 2 HP with frame diameters ranging from 3.3" to 6.0". We also offer motors that run off of other voltages such as 24 volt, 36 volt, or any voltage up to 180 volts. If you are unsure which design is right for your application, just give us a call. We are more than willing to help you find the correct Electric Motor 12V.
Our 12V Motors are custom designed to fit OEM applications. Our sales engineers are willing to speak directly with you to design the perfect motor just for your company. All of our motors are manufactured with NEMA, IEC, or custom mounting arrangements based on your company's specified needs. All of our 12V Motors have the capability of speed control, allowing the use for variable speeds with a control, as well as bi-directional and reversible capabilities.
At MET we take pride in our high quality work as demonstrated in our final product, be it an Electric Motor 12V or 24V or 36V. Being a leading manufacturer in custom designed, American made, direct current motors, we focus largely on our customer satisfaction and strive for excellence. We are very persistent that every 12 V Motor is made for a specific application and will not be sold to anyone else but the original customer. For more information on our 12V Electric Motor you can read our blog. If you would like to find out the pricing of our high quality motors, please contact our Sales Engineers today for a no obligation quote.
Since 1969, Minnesota Electric Technology has been manufacturing American made 12V Electric Motors. Our corporate headquarters is located in Mankato, Minnesota and our manufacturing facility is located in Winnebago, Minnesota. With the manufacturing of our motors being in the USA, it makes our on-time delivery that much more reliable. Give us a call at 507-389-4906 to check out our lead times.
MET the Problem Solvers
– special designs
A potential customer wanted a motor with a gear reducer for a slow speed application. MET developed a motor with a slow enough speed that he did not need a gear reducer, saving the customer 50% of the cost. (Read more…)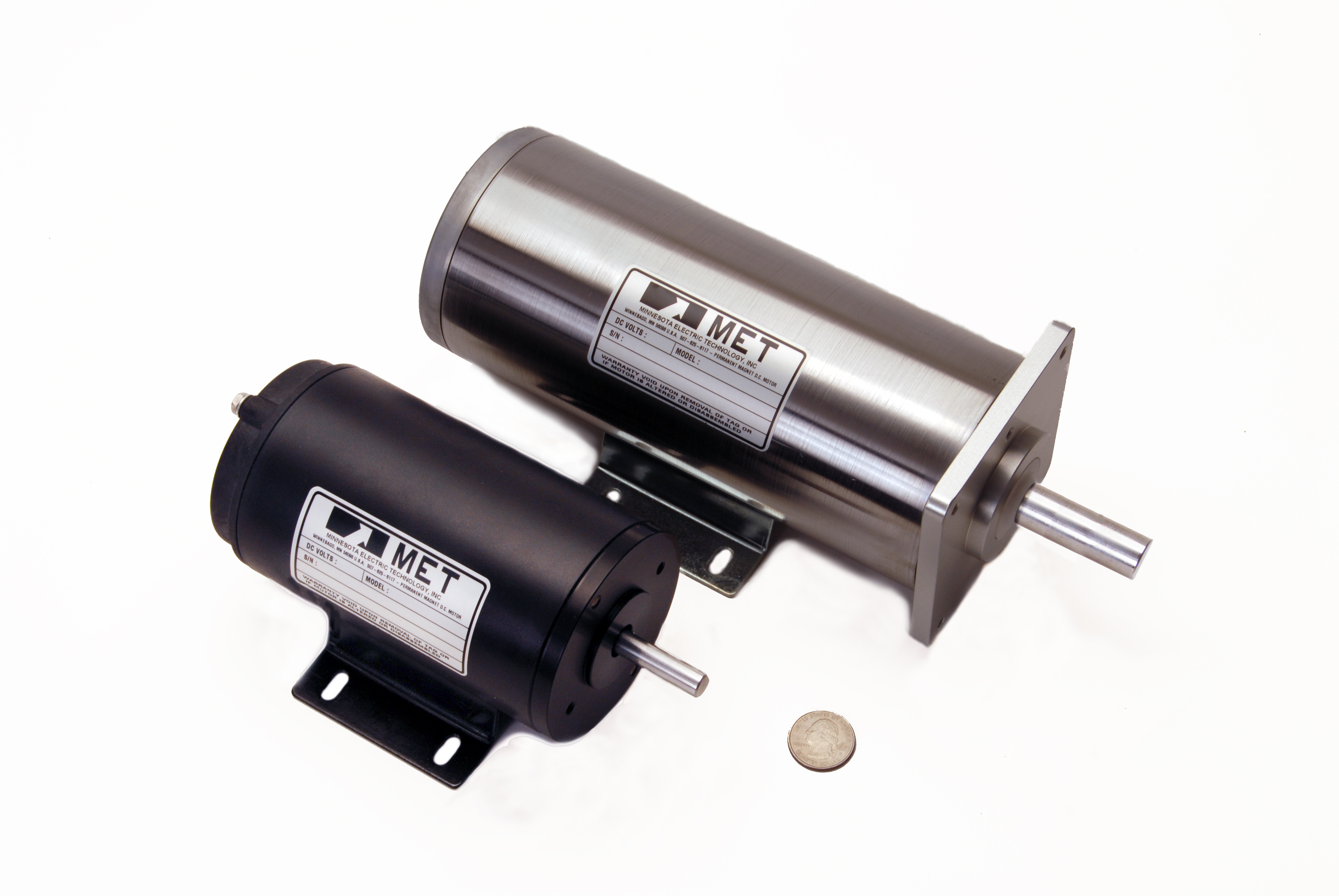 Are there options other than a 12 V Motor?
Along with our 12V Motor we also offer:
How do I calculate my current draw in amperes?
Our 12V Motors can range up to 85 amperes of current for a one horsepower rating. On the low end, a 0.25 HP motor will draw about 21 amperes. For more information on the estimated current draw of a motor for your application, please contact us.
Our Sales Engineers are more than happy to talk with you to assure that you have the perfect 12V Motor for your company's application. We are also capable of providing you with an outline diagram of the customized motor as well as the electrical performance design for your application. If you are unsure of the voltage or style motor that you need just give us a call and we will be more than willing to help you with all of your concerns.